Deputy Health Minister Trinh Quan Huan on July 14 told the health sector to focus on stamping out cholera outbreaks, and said there was no need to continue cholera bacterium tests.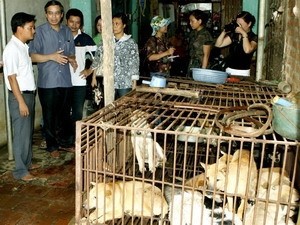 Inspectors conduct an inspection to commune Duong Noi in Hanoi, where supply mostly dog meat for eateries
The health official made the announcement at a meeting of the Steering Committee for Influenza Pandemic Prevention, saying the sector needs to tighten the examination of unhygienic food and untreated canal water, and provide anti-bacterium chemical substances to families to help them treat small outbreaks.
During the past two weeks, 11 cities and provinces in the country have reported over 100 cases testing positive with cholera bacterium. However, the real number was believed to be much higher.
Nguyen Van Kinh, Director of the Hanoi-based Central Tropical Diseases Hospital said that since June 28, the hospital has received 183 patients with clinical signs of acute diarrhea, including 50 persons who tested positive for cholera bacterium.
On July 13, alone the hospital received six cases with clinical signs of acute diarrhea, including one person who tested positive with cholera bacterium.