With bird flu recurring in several provinces in the Mekong delta region, proactive measures are being adopted to help stop the disease.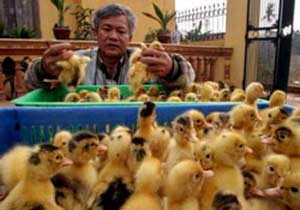 Hatching chicken is under the authorities' supervision
In the southern city of Can Tho, eight districts are currently carrying out vaccinations whilst in the southern province of An Giang, the Ministry of Agriculture and Rural Development have been keeping a close eye on free-range duck-farming conditions and on some local incubation farms.
As a result, farmers are only able to sell vaccinated 14-day-old waterfowl.
In a bid to prevent the disease from spreading, there has been an increase in farming supervision and a tightening of regulations in Kien Giang, Bac Lieu and Soc Trang provinces.
At Viet Nam's southern tip, in the Ca Mau province, public awareness has still not improved despite the recent bird flu outbreaks.
For instance, the culling of Nguyen Thi Hong's flock of poultry three days ago has not deterred her from trying to raise further poultry in the same location immediately after.