The Ho Chi Minh City Eye Hospital has officially asked the drug distributor to make amends for all patients blinded by cataract surgeries, due to the bacteria in Trypan Blue, said a high-ranking medical official of on June 15.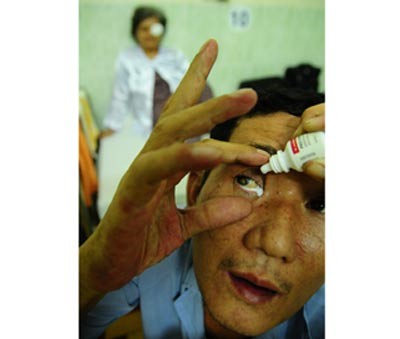 Patient Le Thanh Long in HCMC's ditrict 4 instils a drug into his eye under doctors' insutrction. He returns blinded after catarac surrgery at the HCMC Eye Hospital due to contaminated surgery aid (Photo: Tuoi Tre)
As the latest tests of the surgical aid, Trypan blue, found Pseudomonas aeruginosa bacteria (pink-red rods) present in the agent used in ophthalmologic procedures, said hospital director Dr. Nguyen Thi Phuong Thu.
Tests carried out by the National Institute of Drug Quality Control of the Ministry of Health produced the same results of previous tests performed by hospitals such as the City Eye hospital, the city Tropical Diseases hospital and the Pasteur Institute.
Trypan blue, manufactured by the Indian Khosla Pharmaceutical Company, is imported and distributed by the Viet My Medical Equipment in HCMC's Go Vap District.  The hospital opted for an Indian-made drug because the pharmaceutical company won the bidding.
Of the 22 patients blinded because of the dye used in their surgeries, nine are still receiving treatment in the hospital. In the most severe case, doctors undertook an enucleation for one eye of a patient who underwent the operation in a hospital in the southern province of Dong Nai because it was so heavily infected with the harmful bacteria.
In addition, seven patients have sent an official requests to the Department of Health and the Eye Hospital, saying they wanted to stay at the hospital until their eye condition improved.
Although the surgical aid is placed directly into patients' eyes, the Ministry of Health treats it unlike a drug, but a mere material; therefore, it is licensed by the Department of Equipment, part of the ministry. The ministry therefore must assume part of responsibility, according to an anonymous medical expert.
Related articles:
Surgical aid banned after patients go blind
Patients turn blind after eye surgery