The Mekong Delta Province's first ever kidney transplant took place on Tuesday at the Mekong's Poly-Clinic in Kien Giang.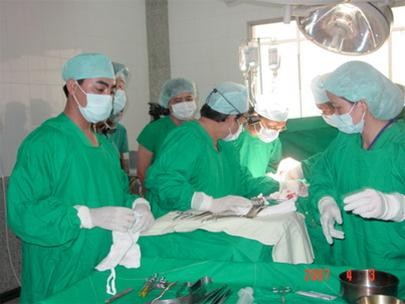 Doctors prepare to carry out the operation for Ngo Van Kiet
The 29-year-old patient, Ngo Van Kiet from the Ninh Kieu district of Can Tho, received the kidney from his 35-year-old sister Ngo Thi Thuy.
Experts from Belgium's Erasme Hospital and doctors from Ho Chi Minh City's Cho Ray Hospital were on-hand to assist local doctors with the operations.
Doctor Truong Hoang Khai, who is in charge of monitoring the patients' recovery said that both the recipient and donor are recovering well after the six-hour-long surgery and are expected to be well enough to leave the hospital in two weeks time.
In related news, the same group of medical staff will be conducting a second kidney transplant operation in the Mekong Delta on Wednesday; a local medicine student will be receiving one of his mother's kidneys.
The total cost of the second operation, approximately VND100 million (US$6,250), will be paid for by the Poly-Clinic in Kien Giang.