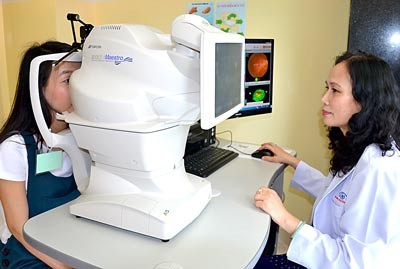 A doctor is examining a patient at Phuong Nam outpatient eye surgery center (Photo: SGGP)
The first ever outpatient eye surgery center was inaugurated on October 20 on 360 Dien Bien Phu Street in District 10 in Ho Chi Minh City, opposite to Binh Dan Hospital.
Dr. Tran Thi Phuong Thu, former Director of Eye Hospital in Ho Chi Minh City, present Director of new outpatient eye center Phuong Nam, said the center is the first of its kind in the country, approved by the Ministry of Health.
The center has four divisions including day center, phacoemulsification for cataract removal, and excimer lasers for refractive eye surgery that does not require an overnight hospital stay.
Total investment in the new hospital is VND120 billion (US$ 5.6 million).
On this occasion, the center conducted preferential programs such as free examination and medicines and discounts for surgeries for many patients.