Amidst the hustle and bustle of Ho Chi Minh City lies Fito, a museum dedicated to the ancient art of traditional medicine making.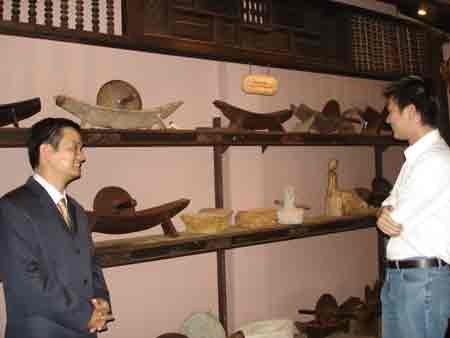 Ancient grinders displayed in the museum of traditional medicine, Fito museum, in street Hoang Du Khuong in district 10 in HCMC (Photo: Uyen Phuong)
This very first museum of traditional medicine in Vietnam has been skillfully crafted with stunning interiors made from wood.
Frames of wooden houses were transported from some northern provinces to give the museum an antique look. The museum has a black ebony fence and two bamboo hedges at its gate.
Staircases are made of black wood with intricately-carved handrails. Even the museum's elevator is framed with black carved wood. Each storey has an open space for indoor plants and herbs.
According to the manager of the Fito museum, Nguyen Thanh Hang, the museum was founded to house the ancient traditionally used medicines for posterity and for future generations to be better able to understand the diverse Vietnamese herbs and their applications in various ailments.
The core collection of the museum contains over 3,000 varieties of traditional Vietnamese medicines dating back to the Stone Ages.
The collection also includes different tools that were used in the preparation of these medicines such as knives, grinders, mortars and pestles as well as an assortment of pots and jars.
Some of these 2,500 year old knives, grinders, mortars and pestles used at that time for preparing the medicinal concoctions were brought from the homes of two of the founders of Vietnamese traditional medicine, Tue Tinh and Hai Thuong Lan Ong – Le Huu Trac. 
It is also known that copper mortars and pestles that were used in pharmacies during the French colonial rule were brought into Vietnam by foreign businessmen during the 16 and 17th century.
Some items like tea pots, bowls, lime pots and ceramic jars have been collected from the northern province of Hanoi, the central province of Quang Ngai and the southern province of Binh Duong.
Amongst the collection are also weighing scales, cabinets, advertising boards, printing molds, spirit gourds, tea pots, bowls, lime pots and articles made of ceramic. The museum has a good collection of books and documents on traditional Vietnamese medicines.
The museum is also in possession of a 100,000-page medicine book by Hai Thuong Lan Ong, considered to be an encyclopedia of Vietnamese traditional medicine.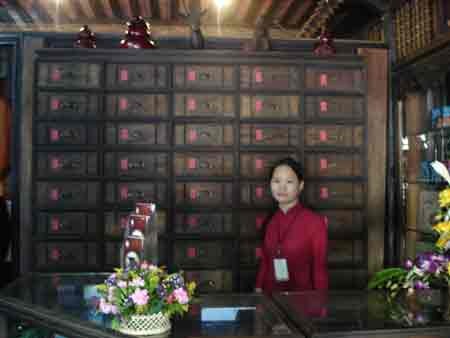 An ancient medicine cabinet in the museum (Photo: Uyen Phuong)
An incredible painting carved in wood called "Vietnam's medical physician record"  shows an ancient tree carved with the names of  100 of the most famous physicians such as Chu Van An, Nguyen Truc, Nguyen Dai Nang and Tue Tinh who have made a considerable contribution towards the development of Vietnamese traditional medicine from the 12th to early 20th century. Some 50 craftsmen are said to have worked for two years to complete this picture.
Yet another painting made of mother-of-pearl reflects traditional medicine in Vietnam depicting traditional medicine shops on streets selling traditional herbal medicines.
Visitors can move around the museum and experience a personal demonstration of the use of a grinding pot, watch a documentary about the history of Vietnamese traditional medicine or taste a cup of linh chi tea before leaving the museum. After the tour, visitors can even have a consultation with experienced oriental doctors.
The museum is located in a narrow lane called Hoang Du Khuong in district 10 in HCMC. The building was started in 2003 and completed in 2007 and consists of five storeys and 18 rooms.
Though the owner Le Khac Tam did not intentionally plan a museum, he and his partners traveled extensively to search for related items and documents on the subject. In 2008 the museum was listed as the first traditional medicine museum in Vietnam by the Viet Kings Record Book Center.