Because bird flu tends to develop unpredictably, the National Steering Board for Bird Flu Prevention on August 2 instructed relevant ministries and agencies, and localities to implement five urgent measures against the epidemic.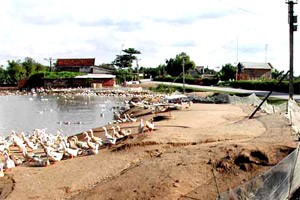 Raising ducks in fields is easy to spread bird flu
Firstly, the supervision tasks must be carried out closely and quickly; new outbreaks of the bird flu and H5N1 patients should be soon detected and keep in strict quarantine so that the epidemic would not spread nationwide.
Secondly, the Ministry of Agriculture and Rural Development (MARD), the Ministry of Trade, the Ministry of Public Security, the General Department of Customs and the People's Committees in localities must strictly control import, trading and transport of poultry at border gates.
Thirdly, the People's Committee of cities and provinces must reserve sufficient chemicals for bacterial sterilization, medicines and equipment to prepare for the likely pandemic.
Fourthly, health officials should continue strengthening quarantine supervision at border gates and must be ready for receiving, isolating and treating patients in order to lower the death rate.
Lastly, the mass media intensify warnings of the possible bird flu outbreaks so that people can actively prevent it.
Viet Nam is surrounded by the epidemic because avian flu including human cases has broken out in its such neighboring countries as Laos and Thailand, said Health Deputy Minister Trinh Quan Huan.
The risk of H5N1  virus with human-to-human transmission and possible outbreaks on human is very high in this coming winter-spring period.

The second vaccination for poultry will be conducted from August 15, Vice Head of Veterinary Department under the MARD said on August 2.
Up to now, no new outbreak has been reported; however, the risk is still high because it is autumn-summer harvest in the Mekong Delta provinces.
Localities have implemented measures to control the spread. For example, Can Tho's Veterinary Department has by now placed two supervision stations at Lo Te three-way crossroad, Can Tho ferry and Ninh Kieu rivulet mouth.
Over 1.4 millions of poultry were injected in the first vaccination campaign in January, 2006 and the veterinary agencies are ready for the second.
The Mekong Delta province of Kien Giang has placed a ban on importing poultry via its border gates.
Kien Giang, along with Kam Pot province in Cambodia, has set up control stations along the border areas of Ha Tien and Kien Luong to thwart smuggling of poultry.
A hot line on bird flu information has been set up.
However, it is difficult for the government to control raising ducks in fields in some provinces of Mekong Delta. This is a serious threat.