According to the Center for Preventive Medicine in the northern province of Lao Cai, five of the patients who contracted A/H1N1 Flu virus in Quang Kim Commune in Bat Xat District are showing positive signs of recovery after receiving treatment at the General Hospital.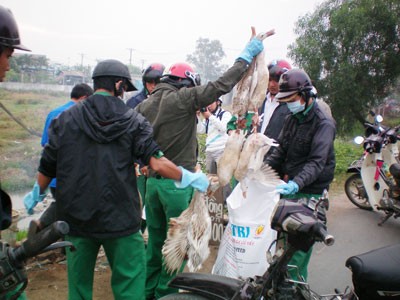 Vets in HCMC's Binh Chanh District seize smuggled poultry (Photo : SGGP)
These patients had been hospitalized after complaints of fever, cough, and respiratory problems. Test results showed positive for H1N1 virus.

Following this, health authorities then rushed to their neighborhood to take more samples for testing as well as advised local medical workers to tighten supervision on those who had directly come into contact with the patients.

The Ministry of Health has said that since the beginning of the year, the number of people contracting H1N1 virus are on an upward trend, with virus being transmitted through the respiratory system.

Tran Nhu Duong, deputy head of the Central Hygiene and Epidemiology Institute, said out of 962 samples taken in the first fourth months, 119 proved positive.

On the same day, Dr. Nguyen Duc Thuan, deputy head of the General Hospital in Lam Dong Province, said the Pasteur Institute in Ho Chi Minh City has confirmed sample taken from a man named Nguyen Dinh Buu as being positive for A/H1N1.

This is the first case of infection in Lam Dong Province. The 53-year-old patient from the highland city of Da lat was hospitalized on April 24 with symptoms of fever and cough. His X-ray results showed that his lung was damaged, after which he was quarantined in a special ward for further examination.