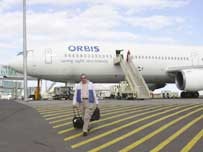 The Flying Eye hospital lands at the Da Nang airport

Funded by the international organization Orbis, the Flying Eye Hospital, an airplane renovated into a mobile hospital, landed in the Da Nang international airport on Saturday on its first trip to Viet Nam.
24 nurses, doctors of the special hospital will provide eye treatment training program to their colleagues in the Da Nang Eye Hospital.
Moreover, they will carry out some eye surgeries worth UD$218, 000 for patients living in Da Nang and neighboring provinces.
The activities will last from October 9 to 21.