Since February 2, more than 155 pigs and 70 cows have been found to be infected with foot-and-mouth disease in Quang Ngai province with Mo Duc district alone reporting 45 cases.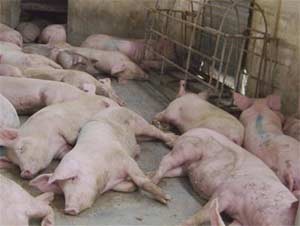 Pigs infected with foot-and-mouth disease
The provincial Veterinary Department said they had destroyed 54 pigs and 12 cows. In addition, more veterinarians have been sent to assist with a vaccination program aimed at preventing the disease from spreading further.
Meanwhile, in Quang Nam province, over 100 animals have tested positive for the disease to date. Among them, 31 pigs at Duy Phuoc Commune were destroyed, Nguyen Thanh Nam, Deputy Head of the Provincial Veterinary Department announced Wednesday.
Foot-and-mouth, a potentially epidemic disease, affects a wide range of animals including pigs, cows and sheep.