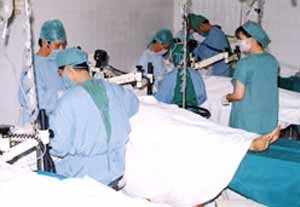 Vietnamese doctors conducts free eye surgery for Cambodia's blind.
About 300 people suffering from cataracts in Cambodia's Kampot province have received free medical treatment and supplies provided by Ho Chi Minh City and the Poor Patient Sponsorship Association (PPSP), a charity organization based in the southern Vietnamese province of Kien Giang.

This brings to a total more than 1,000 people who have benefited from similar programs carried out by the PPSP over the past three years.
The PPSP delegation was joined by a charity group associated with the Giac Nguyen pagoda in Ho Chi Minh City who went along bearing more than 1,200 gifts for poorer inhabitants of the region.
The association said it will continue the program over the next three years. Cambodia's Kampot province has 600,000 people, of which 5,000 suffer from visual impairments requiring surgery.