October 12 is World Eyesight Day and Ho Chi Minh City's hospitals are doing their bit by providing free eye treatment for the poor.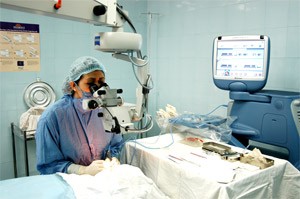 Doctor of the Eye hospital conducts a free operation for the poor ( Photo:U.Phuong)

On October 11, the Eye Hospital at 611/2 Dien Bien Phu Street in Ward 1, District 3 will offer free eye examinations and medicines if needed, and 100 needy cataract patients will receive free surgery and drugs.

On October 12, the ophthalmology department of An Sinh Hospital will examine the eyes of old and poor people and check for refraction defects, again without charge.

And until December 31, the hospital will carry out free eye checks for over-seventy-year-olds, and reduce the fee for a cataract operation if the patient is on or below the poverty line.

Also participating is Rohto Mentholatum Vietnam, which is teaming up with the Central Eye Hospital in Ha Noi and the Eye Hospital in Ho Chi Minh City to test eyesight and provide gratis eye consultation at the Cultural House, 255-257 Bach Mai Street, Ha Noi on October 12 and at Military Zone 7 Stadium, 202 Hoang Van Thu Street, Phu Nhuan District, Ho Chi Minh City on October 15.