Over 500 disadvantaged people in the Cuu Long (Mekong Delta) province of Kien Giang received free health screening on Sunday.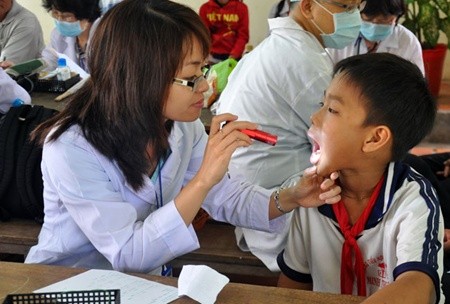 A paediatrician treats a boy in An Minh Bac District in Kien Giang Province on Sunday under a Red Cross and Bayer funded free health screening for 500 disadvantaged people. — VNS Photo
At the programme, organised in An Minh Bac Commune in U Minh Thuong District by local authorities, the Thien Tam Charity Foundation belonging to the Tan Binh District Red Cross, and Bayer Viet Nam, medicines and supplies like instant noodles and cooking oil were also donated to the beneficiaries.
They were taught how to grow rice safely and farm fish naturally.
A Bayer spokesperson said a new bridge would soon be completed in the area to improve the traffic situation for 1,200 locals.
Earlier, on Saturday, Nguyen Thi Ngoc Phuong, president of the HCM City Society for Reproductive Medicine and vice president of the Viet Nam Gynecology and Obstetrics Association, spoke with teenagers about reproductive health.
The health screening programme and bridge construction, which together cost VND450 million (US$21,000), are part of the company's routine activities to support disadvantaged people over the last 20 years, he said.
An Minh Bac Commune has more than 2,500 households, of whom nearly 10 per cent are living in poverty.