Those most vulnerable to HIV/AIDS will have the opportunity to receive free legal counsel, for example in employment and marriage issues, in a national pilot project kicking off soon.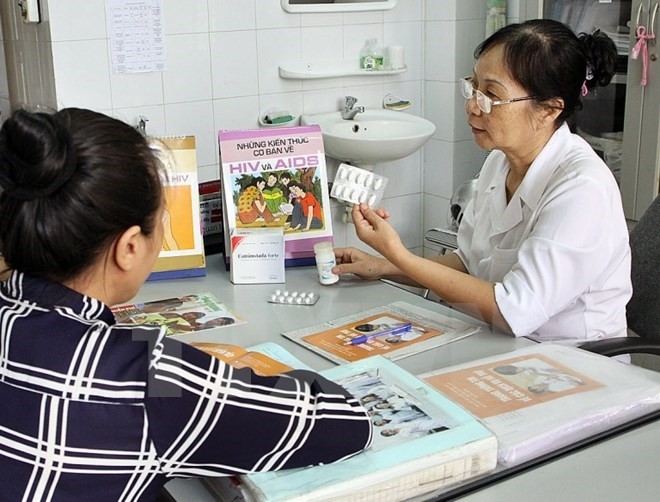 A people living with HIV receives medical consultation in hạ Long City. — VNA/VNS Photo Dương Ngọc
The project will be undertaken by the Vietnam Lawyers Association (VLA) and the Global Fund Supported Project on HIV/AIDS across Hà Nội, Quảng Ninh and Thái Bình Provinces in the north together with HCM City and Đồng Nai Province in the south.
The project plans to provide free legal aid to those already infected with HIV and those who are particularly vulnerable to being exposed to the disease, including drug users, sex workers, transgender and homosexuals.
In Việt Nam, HIV transmission through sexual intercourse has become the most common method of transmission, with the number of new cases due to sexual activity surging from 12 per cent in 2000 to 45 per cent in 2013, according to the Ministry of Health. 
"Vulnerable groups tend to have little legal knowledge so they easily fall prey to abuse without even knowing about it. Even if they do, they don't know where to seek help because of severe social stigma and discrimination," the Centre of Legal Consultancy and Medical and HIV/AIDS Policies Director, Trịnh Thị Lê Trâm, said at a conference on the issue last week.
A survey by the centre shows that about 75.9 per cent of HIV-positive people never sought public legal consultancy services, offered by the Government under the Law on Legal Aid issued in 2007.
Reasons for the low figure of people seeking help at public legal aid centres might lie in their stringent rule requiring the publication of personal identities, or their locations.
Public legal aid centres also lacked either separate rooms in which to offer services or legal consultants qualified in working with HIV-infected patients and HIV-vulnerable groups who suffer heavily from social stigma and discrimination, Trâm said.
"Moreover, drug users, sex workers and homosexuals are not subject to free legal support from the Government," she said.
The demand for legal aid of those groups was real and has been increasing throughout the years.
Trâm said that while there were only 1,900 phone calls to her centre's hotline (18001521) asking for help with HIV/AIDS and other legal matters, the number increased to more than 3,000 in 2014.
"However, the number is still very small compared to the total of HIV-infected people across the country," she said.
Việt Nam identified some 227,154 HIV patients by the end of 2015, and estimated that there were about 254,000 HIV-infected people in the country.