The government has allocated more than VND 1,000 billion to a national program providing free medical treatment for children under six years old.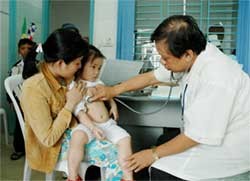 Children under six receive free medical treatment
Nguyen Trong An, Vice Head of the Department for Children under the National Committee for Population, Families and Children, announced that health cards for the program have been distributed to some 10 million children under the age of 6.
In related news, at a meeting with the Ho Chi Minh City Department of Health on Thursday, representatives from Novartis Pharmaceuticals said they will cover the costs of treating patients suffering from chronic myelogenous leukemia (CML) and gastro-intestinal stromal tumours (GIST), provided they have medical insurance.
They will also provide prescriptions of Glivec free of charge, drugs currently used for the treatment of patients with two diseases.