December 3, Hanoi authorities suspended the operations of a vegetable and fruit processing company due to violations of food hygiene and safety.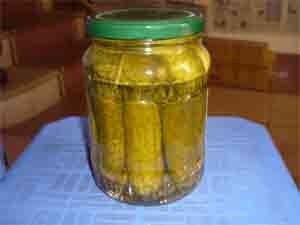 Salted cucumbers (Photo by muare.vn)
When carrying out routine checks at Viet Han, a food processing company in Tu Liem District, the inspection team, led by the director of Hanoi Department of Health, Le Anh Tuan, found an unlabeled box of pickled bamboo shoots being packaged with labeled boxes.

The owner of Viet Han said that the batch of goods, consisting of some 200 boxes of bamboo shoots, had been produced as per the order by Tam Duc Aquatic Product Co., in Hoang Mai District.

He also failed to produce plant quarantine certificates for vegetables and fruit used as raw materials for processing. The produce were said to come from Van Giang District of Hung Yen Province and Dan Phuong District of Hanoi.

Viet Han specializes in processing and trading processed foods, including salted goolar fig and cucumber, and pickled bamboo shoots.

The company daily produces 30-40 boxes of processed fruit and vegetables, supplying the supermarkets Big C, Fivimart and Intimex.