Being launched in 2013, the project "Sending young medical workers to disadvantaged districts" has contributed much to healthcare mission in these places.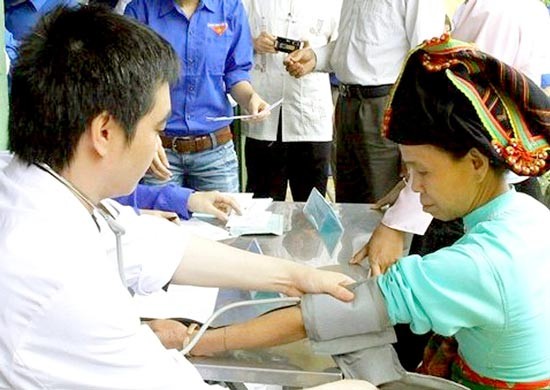 A young doctor examines residents in a mountainmous districts as per the project(Photo: SGGP)
The project was launched by the Ministry of Health, the Communist Youth Union and the Young Physical Association with the aim to increase healthcare quality in poverty regions; accordingly, many medical workers volunteered to work in these disadvantaged districts such as islands and distant places.

The project is not simple as it requires not only encouraging policies but also spirit of volunteer of young doctors. Dr. Ha Anh Duc, deputy chairman of the Young Physical Association is moved when mentioning these names of young doctors who volunteered to work in poverty districts.
Cao Thi Hong Yen, a female medicine graduate in Hanoi, volunteered to work in a remote mountainous district in Muong Khuong District of the northern province of Lao Cai. Nguyen Van Hieu with a pretty good diploma also volunteers to work in Muong Nhe District of the Northern Province of Dien Bien.

The project has been implemented in 20 provinces with expectation of around 500 volunteers to work in 62 provinces. The project also hopes to increase medical worker force in distant districts to reduce pressure on big hospitals.