The impact of adequate food on patient outcome has been well documented since 2011; however, as many as hospitals have not had nutrition wards. According to the Ministry of Health's latest survey, 30 percent of hospitals have no nutrition wards and most of them are hospitals in countryside districts.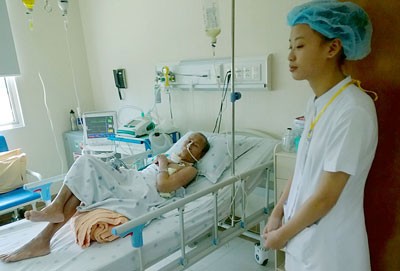 Severely ill patients or patients need to be provided nutritious meals (Photo: SGGP)
Gia Dinh People's Hospital in Ho Chi Minh City has set up the nutrition ward in 1998 following the Ministry of Health's guidelines, said Ta Thi Tuyet Mai, head of the hospital's nutrition and dietetics ward.
The ward assessed the nutritional status of inpatients, saying that the number of undernourished patients is very high.

For instance, 65 per cent of patients in intensive care unit; 72.3 percent senior patients, and transverse colon cancer patients before operation were malnourished.
They are highly vulnerable to hospital-acquired infections and long period of hospitalization leading to the increase of treatment cost, said Dr. Mai.

Medical workers of the nutrition and dietetics ward will provide nutrition consultation to outpatients, inpatients and serve meals for inpatients fed intravenously.

Good nutrition to patients in Cho Ray Hospital which receives over 5,000 patients a day has become a primary focus, especially for patients with heart disease, diabetes and kidney, liver failure. Nutrition intervention speeds recovery of hospital patients, said Luu Ngan Tam, head of the hospital's nutrition and dietetics ward.
The ratio of patients who are offered nutritious meals on their condition increased from 50 percent in 2011 to 75 percent now.

Nutrition intervention is especially critical for child patients during treatment procedure, said Dr. Hoang Thi Tin, head of the HCMC-based Children Hospital No. 1's nutrition and dietetics ward.

The city's Nutrition Center's survey showed that most of medical facilities in HCMC are well-done in supplying nutritious meals to patients. One-third of private hospitals have not followed strictly the Ministry's guidance.

The Ministry said that hospitals are paying less heed to nutrition.  Around 276 hospitals have established the nutrition and dietetics wards in the country to improve treatment and recovery from surgery. Luong Ngoc Khue, head of the Ministry's Department of Medical Examination and Treatment, said that only 23 percent of hospitals in districts have set up such wards and the rate of nutrition ward in university hospitals is very low.
Nutritionists called for hospital leaders' adequate attention in setting up the special ward as per the Ministry's guideline. Dr. Luu Ngan Tam from Cho Ray Hospital petitioned that insurance company will pay for nutritious meals for patients to encourage people to have meals provided by nutrition ward in hospitals.

Deputy Health Minister Nguyen Thi Xuyen asked hospitals to establish the nutrition and dietetics ward in the facilities strictly following the Ministry's guideline. In addition, there should be cooperation between wards in hospitals and nutrition ward to provide consultation to patients.