Minister of Agriculture and Rural Development Cao Duc Phat instructed local authorities to implement anti-bird flu measures yesterday due to fears that fresh outbreaks of the serious virus, occurring in two provinces of the Mekong Delta, may spread nationwide.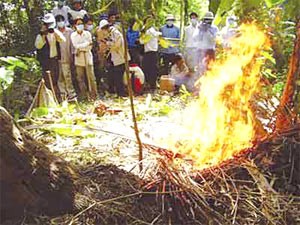 Burning poultry infected with bird flu at Tran Van Thoi District in the southernmost province of Ca Mau
After his visit to the southernmost province of Ca Mau and neighboring Bac Lieu, Mr. Phat, who is also the head of the National Steering Board of Bird Flu Control, warned that risk of the flu spreading in the country is very high due to low public awareness. "So far, no place is safe from the bird flu," he said.
At the meeting, the Steering Board criticized authorities in the two provinces for late detection of the outbreaks and farmers for not treating the situation with the importance it requires.
It was also noted that authorities of many southern provinces have failed to be effective in preventing the illegal slaughter, trade, and transport of poultry to Ho Chi Minh City, which has left the city with poultry of unknown origins.  
The avian influenza is now threatening some northern provinces as well, including Ha Noi, however, over 90 percent of poultry stocks in those provinces have been vaccinated and anti-flu measures carried out as per government guidelines.
In order to prevent the flu's recurrence, Mr. Phat said that local officials must strictly carry out their duties and each locality must work diligently to protect itself from a potential epidemic.
He stressed that at the moment, fighting the flu is as in urgent as preparing for a typhoon. Authorities should call upon local unions and private health organizations to take part in anti-bird flu campaigns and inspections need to be carried out to the level of individual households in order to ensure early detection and a timely response to any emerging situation.
A program called the "month of hygiene and disinfection" will be launched during the first month of next year. From January 1 to 15 the Steering Board will send eight teams nationwide to look for any signs of the disease.