Preliminary clinical trials suggest that a human vaccine for avian influenza is "safe and effective," state media on Monday quoted Chinese scientists as saying.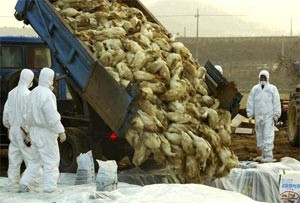 Health officials destroying diseased poultry
The first-phase trials were conducted on six volunteers at Beijing's Sino-Japanese Friendship Hospital from November to June, the official Xinhua news agency said.

The vaccine was developed by researchers from the Beijing Sinovac Biotech Company and the China Centre for Disease Control and Prevention, the agency said.

China has reported 21 human infections and 14 deaths from H5N1 bird flu in recent months, though some experts believe that many more cases may have gone undetected.

Earlier this month, the government confirmed that a man who died in November 2003 was infected with H5N1 bird flu, two years earlier than the first case previously reported in the country.

The World Health Organisation had recorded 241 human infections with bird flu worldwide, including 141 deaths, by August 23.
Source: BKP