The Department of Health in Hanoi has reported 12 more cases of hand-foot-mouth disease (HFMD) in some districts, in the past two weeks.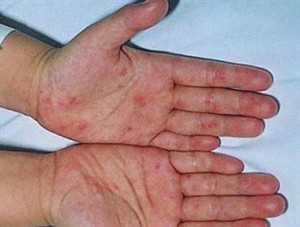 Symptoms of hand-foot-mouth disease on a child's hand
The disease has spread across many parts of the southern provinces within the first six months of this year with more than 8,000 reported cases and 29 reported deaths.
Hanoi health authorities and the Department of Education and Training are implementing preventive measures to curb the disease from spreading in schools, especially in pre-schools.
Relevant agencies must raise parents' awareness of the disease, warning them of the symptoms. Parents must report to schools of any sick child and keep them indoors at home for at least 10 days.
The school should also give leave to a class having two sick children, for a minimum of 10 days. The school is required to sanitize toys and other items in class with Chloramine B disinfectant as well as boil bowls, chopsticks and spoons in water to kill infection.
Hua Ngoc Thuan, deputy chairman of Ho Chi Minh City People's Committee, presided at a meeting on June 16 with relevant health agencies. Binh Chanh, Binh Tan, Go Vap, Tan Phu, Binh Thanh and District 8 have reported many cases of HFMD while districts 1, 6, 9, 12, 7, Cu Chi, Nha Be and Can Gio already have many sick patients.
Thuan has ordered departments of health to adopt urgent measures to stop the outbreak of the disease and also remain alert to the spread of dengue fever.