Ho Chi Minh City People's Committee has instructed the steering boards for bird flu control of districts to stick to the city's policy of halting poultry farming until February 2007 and to carry out the city's plan for preventing and controlling the pandemic.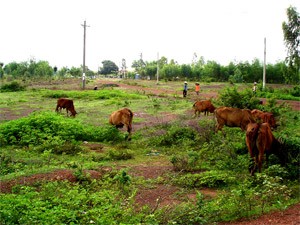 Cattle must not be let wander freely. ( Photo:U.Phuong)
Furthermore, district and ward authorities must publicize information about a possible bird flu epidemic on the media to raise public awareness.
Besides, any outbreaks of animal disease, whether in birds or humans, must not be concealed to prevent any purchase of infected cattle and pigs. Local authorities must make sure that not food products are made from sick livestock, that cattle are not let wander freely, and that cattle and pigs in areas affected by hoof-and-mouth disease are strictly kept under control.
If an outbreak should occur, quarantine and other relevant measures must be taken promptly.
Last but not least, stricter examinations of cattle and pigs must be done at the city's four quarantine stations, and vaccinations must be performed promptly to help prevent any outbreak of bird flu, hoof-and-mouth disease as well as any related disease in humans like influenza A H5N1.