At a conference held in Hanoi on February 20, to discuss urgent ways to curb spread of hand-foot-mouth disease in Vietnam, Dr. Tran Thanh Duong, deputy chief of the Department of Preventative Medicine stated that numbers had increased this year by 7.3 times, with over 6,300 patients reported in the first six weeks alone.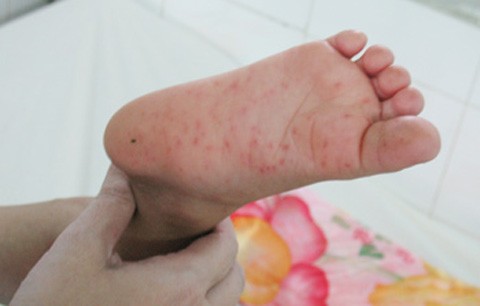 Numbers  of HFM patients increase this year by 7.3 times, with over 6,300 patients reported in the first six weeks alone
Within the first six weeks of the year, 6,300 patients were reported suffering from HFMD in 60 provinces, including nine fatalities, in the Mekong delta provinces of An Giang, Dong Thap, Vinh Long, Can Tho City, the southern province of Dong Nai, and Ho Chi Minh City.
The disease is ravaging the South with more than 3,860 reported cases, and the North with 1,600 cases.
More worrisome is the fact that tests done on dead children infected with the virus, showed a more complicated development of the hand-foot-mouth disease, which resulted in encephalitis, meningitis and pneumonia, often leading to death.
The Department of Preventative Medicine said this year will see a more complicated development of the disease with higher number of people being infected, especially in the months of September, October and November.
Dr. Duong explained that due to the epidemic spread of the disease in many countries in the world, healthy virus carriers continue to spread the disease.
Yesterday, Dr. Nguyen Tam Lam, from the Center of Preventative Medicine in the central city of Da Nang, said the city has reported 61 HFMD cases, including the death of 22-month-old Nguyen Anh Khoa.
Authorities have ordered closure of the school where Khoa is studying, so that the entire area can be disinfected. The center has also sprayed chemical disinfectants in Hai Chau, Thanh Khe and Lien Chieu Districts where a high number of HFMD patients have been reported.