The acute diarrhea epidemic just ended. But while authorities work on ongoing measures to prevent a recurrence, Hanoians have already resumed eating shrimp paste, their favorite condiment and the primary vector of the recent outbreak,  without bothering to check whether it is safe or not.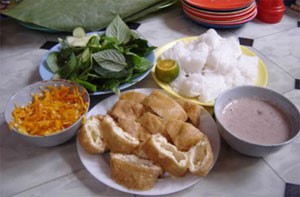 Tofu served with shrimp paste, a favorite dish to many Northerners

 

December 11, Ha Noi Food Safety and Hygiene Department Director Tran Dang reported contaminated shrimp paste was the primary source of 61 incidences of cholera in a recent outbreak of acute diarrhea in the north.
After withdrawing a ban on selling undocumented shrimp paste, the Ministry of Health (MoH) began coordinating with the Ministry of Agricultural and Rural Development (MARD) to carry out checks on shrimp paste producers to make sure their production complies with food safety and hygiene regulations. 
But despite the government's efforts to prevent a recurrence of the "acute diarrhea epidemic", the day after the MoH announced its end, shrimp paste was again on display in Ha Noi's markets.
Further, one grocery stand owner in Ha Noi claimed that even during the days the epidemic, he could still sell several liters of shrimp paste each day to dog-meat restaurants and no one died from eating it.
As shrimp paste cannot be made overnight, all shrimp paste displayed for sale at grocery stands in markets now must have been produced during the epidemic and should have been seized during the government's ban on selling it.
Some owners of grocery stands, however, are said to have simply hid their stocks away during the ban and are now selling those stocks, which could not have been inspected.
Not only grocery stand owners sell shrimp paste carelessly, but also consumers eat the sauce without inhibition.
At Nui Truc Street where many dog-meat small restaurants are located, large bowls of shrimp paste showed up in the restaurants' showcases again. Inside the restaurant, many diners gathered around a large table on which were a big dish of grilled chopped dog meat, a basket of fresh vegetables and a bowl of shrimp paste sauce.
When one diner at a restaurant in Ha Noi was asked if he felt at risk when eating shrimp paste replied, "Thousands of people suffered from acute diarrhea, you know, but no one died. Let's eat shrimp paste, and if you get acute diarrhea, just go to the hospital, have a transfusion and everything will be O.K."