Ho Chi Minh City's HIV/AIDS Committee launched a communications campaign on Wednesday urging people at risk of contracting HIV/AIDS to voluntarily seek out and utilize free testing and counseling services found throughout the country.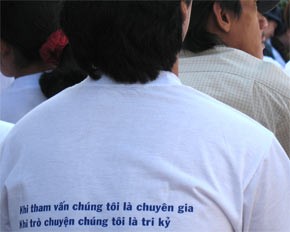 "While counseling we are your experts, while chatting we are your heart-to-heart friends" seen on counselors' backs (Photo: Tuong Thuy)
More than 200 volunteer counselors attended the launch ceremony at the Community Health Counseling Center of District 4, itself a counseling and testing clinic.

Mr. Kenneth Chern, US Deputy Consul General, attended the event since the US Government supports many HIV/AIDS-related programs and agencies in Viet Nam. The campaign is backed by the US President's Emergency Plan for Aids Relief, with technical support provided by Population Services International, a US-based non-profit organization.
The communications campaign encourages people, especially those most vulnerable to HIV/AIDS, to get tested at qualified facilities where accessible, non-judgmental and friendly counselors do their jobs for free. It also aims to increase awareness and knowledge of what voluntary counseling and testing is all about.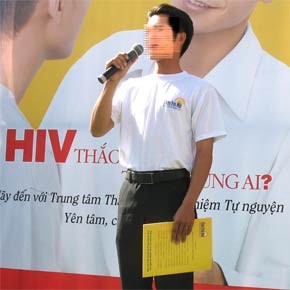 Than Minh Chanh tells his story (Photo: Tuong Thuy)
At the ceremony, Than Minh Chanh, a 27-year-old man infected with HIV, spoke about his hopelessness three years ago after he found out he was HIV positive. That hopelessness, however, turned to hope after a few meetings with clinic counselors, who helped him face the truth and recommended facilities where he could receive free treatment and medicine.
"Hope has been revived in me, hope about a new life, about a new future, about a new horizon," he said.
Chan Troi Moi (New Horizon) is also the name of the campaign. Chan Troi Moi counseling and testing clinics operate free of charge and are found in districts 1, 2, 3, 4, 6, 7, 10, Phu Nhuan, Binh Thanh, Thu Duc and Binh Tan in Ho Chi Minh City. They are places where individuals can meet with professional counselors to discuss issues such as personal behavior that may place them at risk for HIV/AIDS.
Clients are not required to provide their names, addresses or any other personal information. If the test is positive, individuals receive immediate counseling on methods of positive living and the prevention of HIV transmission to others. They are then referred to appropriate support services.
With negative results, clients may receive counseling on risk reduction, and be referred to other services such as reproductive health care professionals or detox centers. All services and test results are confidential and are not released to anyone other than the client.
With the US's support, Viet Nam has established 70 such counseling and testing facilities in 40 of the country's 64 provinces, providing free services to about 80,000 persons at risk annually.
The US Government supports the fight against HIV/AIDS in 15 nations around the world, with Viet Nam being the only country in Asia, Mr. Chern said at the launch ceremony.
"I was happy to see a poster for the campaign right outside my apartment in District 1. On a personal note, I can confirm that these activities are reaching more people. And I salute you for your commitment and for your life-saving work," he said.