A dog meat restaurant in District 1 was closed after health inspectors, in an unscheduled check, found poor levels of food hygiene.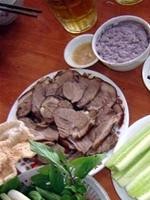 Most dog meat restaurants in Nguyen Trai Street, HCMC do not meet basic hygiene standards. (Photo: Tien Phong)
Inspectors have taken samples of dog meat, shrimp paste and water from the Nam Dinh 1 restaurant in Nguyen Trai Street.
Inspectors swooped at the busy restaurant and allegedly found piles of bowls, plates and cutlery lying about in disorder in front of the toilet.
Cong Quynh alley, just off Nguyen Trai Street, has around 10 dog meat restaurants. Most do not meet basic hygiene standards, inspectors said.
Restaurant owners said that they do not slaughter dogs but get dog meat from Pham Van Hai Street. Much of the meat does not have certificates of origin and quarantine from veterinary organizations.
In related news, SGGP has recently reported that the number of people with acute diarrhea going to hospitals in Ho Chi Minh City continues to rise. At HCMC Children's Hospitals No 1 and 2, around 100 children are being treated for diarrhea and 20 adults are at the Hospital for Tropical Diseases.
Although the number of diarrhea patients has not fallen, HCMC has yet to record any cases of cholera related diarrhea - which is affecting some northern provinces, the director of the city's Department of Health, Nguyen Van Chau, said.