Director of the National Institute of Epidemiology Professor Dang Duc Anh October 16 said that as per the institute's study, mosquitoes transmit Zika virus and dengue circulate in the country.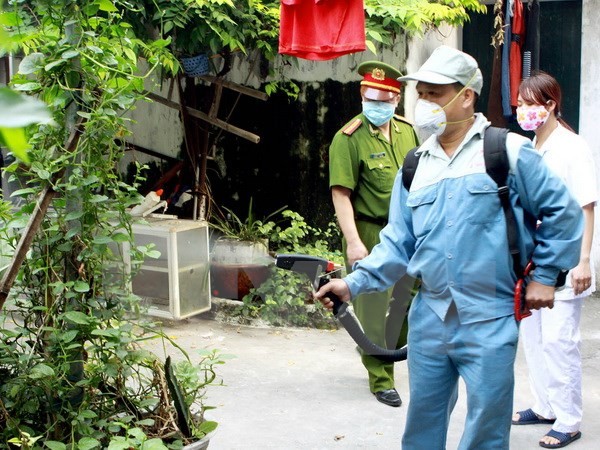 A health worker sprays chemicals to kill mosquitoes at a residential area — VNA/VNS Photo Duong Ngoc
Since the Southeast Asian country has reported the first case of Zika virus in April, 2016, the institute has carried out tests on nearly 2.4 mosquitoes.
Test results showed that 56 mosquitoes caught in traps across the country were positively identified as carrying the Zika virus, accounting for 0.24 percent; 29 mosquitoes were positive for Dengue virus or 0.12 percent and no mosquitoes resulted for Chikungunya virus.

Professor Duc Anh stressed that finding mosquitoes with Zika virus is especially alarming in coincidence with the infection cases of Zika in some localities. It proves that mosquitoes carrying Zika virus are circulating in the living environment; accordingly, residents should kill the insect and apply preventive measures.

The Ministry of Health's Department of Preventive Medicine said that seven cases of Zika virus have been recorded in the country including Ho Chi Minh City with four cases; the southern province of Binh Duong with one case, the central provinces of Khanh Hoa and Phu Yen with one case for each.

Head of the Department of Preventive Medicine Tran Dac Phu said that in the upcoming time, more cases of Zika virus will be able to detect because there is circulation of the virus in the country. Additionally, people travelling between the Southeast Asian nations can carry the virus.

Therefore, the Ministry of Health determined to implement preventive measures including increasing activities of Emergency Operation Center (EOC), taking more samples for tests and increasing information to residents about the virus. Moreover, anti-mosquito campaign will be-launched nationwide.