The Children Hospital No.1 in Ho Chi Minh City has just treated a newborn baby suffering from asphyxia from the womb and weighing 3.3 kilograms, which was transferred from another hospital in critical condition.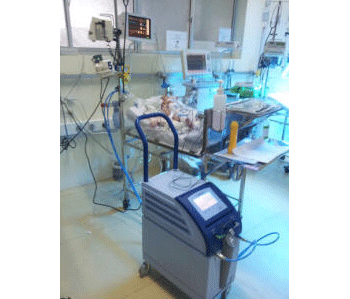 The newborn baby under observation in the intensive care unit (Photo: Children Hospital No. 1)
The baby was rushed to the intensive care unit of the hospital where the doctors tried to lower the baby's body temperature to 33.5 degrees celsius, from a normal 36.5 to 37.5 degrees, within the next 72 hours so as to prevent brain damage.
All efforts of the doctors' have been rewarded so far as the baby seems to show signs of recovering as it has begun to suck and respond to surroundings.
Dr. Ho Tan Thanh Binh of the Neo-natal Intensive Care Unit said the new technique to lower temperature has proved successful in treating asphyxia at birth for the first time.
The technique aims at lowering the body temperature of a baby so as to protect the brain cells from being destroyed due to lack of oxygen. If the technique is applied within six hours of birth, it can reduce brain injury by 15-20 per cent.