Ho Chi Minh City's leaders yesterday visited senior doctors and medical administrators for the 53rd National Physicians Day on February 27.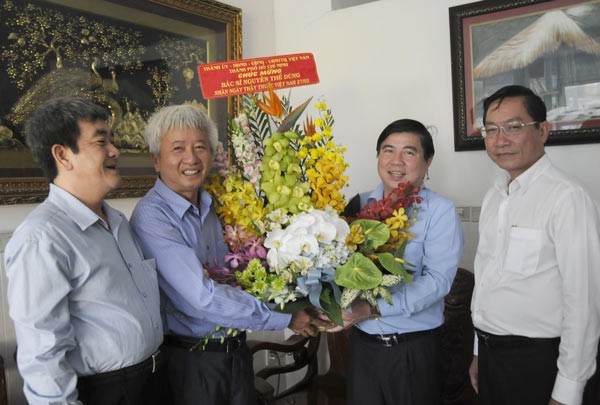 Chairman Phong ( 2 from right) givese flower bunch to Dr. Nguyen The Dung ( 2 from left) (Photo: SGGP)
On behalf of the city Party Committee, People's Committee, People's Council and Fatherland Front Committee, chairman of HCMC Nguyen Thanh Phong visited Dr. Nguyen The Dung, former director of the city Department of Health. Mr. Phong said that he wanted to hear more opinion on improving the people healthcare.

Though Dr. Dung got retired, he has still devoted to the city's medical activities as well as kept an eye on its changes. He said that the city health sector has impressively changed, treatment quality has improved much for past years and medical workers' behaviors to patients are better.

However, some healthcare policies got less support, especially people have not much satisfaction for the health insurance policy so many people have not bought health insurance cards, he said.

Dr. Dung expected that the city leaders to study more ways to encourage people to buy health insurance as well as medical facilities must be fairer in treating health insurance card holders.

In a meeting with former Health Minister Dr. Doan Thuy Ba, Chairman Phong wished her good health and making more contribution to training young doctors. Dr. Doan Thuy Ba expected an open-door policy for the health sector, including economic mechanism to promote hospital development.

Chairman Phong promised to find out more open-door policy for the health sector to take care of residents' health better.

In the meantime, Deputy Secretary of the city Party Committee Tat Thanh Cang and his team visited former Deputy Health Minister Pharmacist Nguyen Duy Cuong who wanted to improve overloaded hospitals and more changes in pharmacy which still depends much on imported materials.

On the same day, Mr. Cang also paid a visit to the house of former Health Minister Tran Thi Trung Chien who proposed some measures to develop the health's sector including focusing on encouraging private investment on health sector.

Mr. Cang also came to the house of late Dr. Nguyen Thien Thanh, former director of Thong Nhat Hospital to burn incense.