The Ho Chi Minh City People's Committee and the Saigon Pharmaceutical Company Limited (Sapharco) met on March 4 to decide on assisting and supporting poor patients with medication and drugs.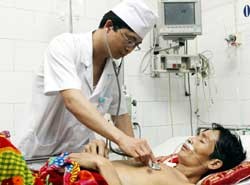 File photo shows a doctor examine a patient in a hospital in HCMC.
As the medicine prices have risen dramatically, the People's Committee has decided to set up a fund to give support for medication for needy patients. The fund will be effective by April.
Medicines and drugs have seen an average rise in the retail market of 20 percent for antibiotics, vitamins, pain killers and anti-inflammatory pills. Shop assistants in pharmacies in wholesale markets on Tan Dinh Street in district 1, Su Van Hanh Street in district 10, Thuan Kieu Street in district 5 and 3/2 in district 11, said they were informing all customers of the surge in drug prices.