Some Ho Chi Minh City hospitals have been overrun by diarrhea patients since May 14.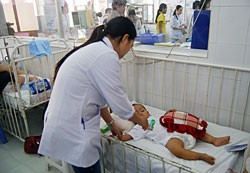 A child with diarrhea receives treatment at HCMC's Pediatric hospital No.2 (Photo: Khanh Vy)
At Pediatric Hospital No. 2, the situation was so bad on May 14 after 100 patients were admitted, some of them with acute diarrhea, that several had to stay in the lobby since no more beds were available.
The situation was the same at the Pediatric hospital No. 1 and the Tropical hospital.
The Department of Health has warned about a diarrhea epidemic and instructed health agencies to closely monitor the water and food sold at sidewalk eateries, and dog meat which has caused a cholera outbreak in Hanoi.
But the animal health department said it does not know how much dog meat is consumed daily or their origins. Tan Binh District alone has 37 dog-meat restaurants without certificates of food hygiene and safety, six slaughterhouses, and six shops selling dogs.
On the same day Hanoi said 215 acute diarrhea cases have been reported so far.
Its Department of Health carried out surprise checks on some dog-meat restaurants in Nguyen Khang Street, and inspectors found some dogs imported from Laos at one of them. The restaurant had no certificates of hygiene and safety.
Another eatery was unable to tell the inspectors the origin of the dog meat it was serving.
Inspectors took samples of raw and cooked meat and vegetables for tests and shut down the two restaurants.
 
Related article;
Dog meat causes cholera outbreak in Hanoi