The Tu Du Hospital's Infertility Ward only received 25 sperm donations over the last two years, unfathomably less than the public demands.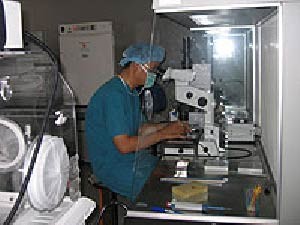 A doctor of Infertility Ward does the sperm storage process

A recent report indicates 110 couples a month have been visiting Tu Du Hospital's Infertile Ward. The worse halves of these pairs have apparently been somewhat piqued in their conjugal performances.

Among the couples surveyed, 90 percent were comprised of at least one partner apparently incapable of producing viable spermatozoa while 10 percent faced some form of deviance from contemporary psychological norms, loosing all sexual desire, domestic rapacity, bed-wetting, etc, etc, ad nauseum.

But worse, the Infertility Ward has been facing surging excess demand for sperm for in-vitro fertilizations (IVFs).

The disequilibrium between sperm-specimen supply and demand has deteriorated so drastically doctors are recommending barren couples seek donations through their social networks and of course deposit them, in the sperm bank.

Later, spermatic specimens can be distributed through some approximation of randomness to impotent families favoring some sort of fecundity.

The solution, however, remains woefully inadequate, conceded one Doctor Le Tan Canh, as only 60 percent of spermatic specimens donated are apparently capable of cutting muster.

Moreover, according to the IW, a single spermatic specimen remains capable of merely one in-vitro fertilization attempt, for only one couple, to produce but one baby. Apparently, 3rd-party sperm does not do x-tuplets.

Hence the sperm bank lacks sperm donations, someone concluded.

Doctors advise the sperm donation process be carried out three times at least to optimize the probability of a successful in-vitro fertilization, process we're told involves hormonally controlling the ovulation process, removing ova from the woman's ovaries and letting the micro tadpoles penetrate and impregnate them in some sort of fluid medium.

A medical services fee of VND3 million (US$187.5) is charged for each couple, a doctor in IW noted, somewhat eagerly. The fee covers medical tests, chemicals used, etc, etc, he added.

Doctors also note that donors can put sperm in the bank not only for the other people's uses but also for their own in some future yet unforeseen, like impotence insurance.

Sometimes, said doctors further noted, people have plans for future baby-making and they'd like the bank for store their own perfectly good sperm in pristine condition, maybe even at its peak of performance.

Sperms can be stored in the sperm bank for up to a whole two years – implying somewhat short-term family planning, it seems. But, say said doctors, if donors fill out a special medical request, the storage period can be extended.

Monthly spermatic specimen storage fees cost some VND150,000 (US$9.40) for the first month and a mere VND50,000 (US$3.10) thereafter.

Donors range within 18-45 years old, must have at least finished secondary school and be qualified by various medical tests aiming at ensure the superiority of their sperm.