With high possibility of H7N9 virus entering the country from China, Luong Ngoc Khue, head of the Medical Examination and Treatment Department under the Ministry of Health, has ordered hospitals and related health facilities across the country to remain vigil on any early symptoms of pneumonia in patients.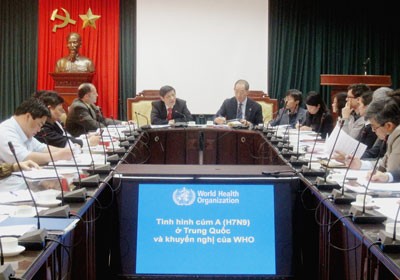 Vietnamese Ministry of Health and WHO discuss prevention measures against H7N9 on April 12 (Photo: SGGP)
This new worry comes amidst fears that the deadly virus strain may in some form enter Vietnam, particularly from China. Medical clinics have been asked to take X-rays and blood tests to early detect any infection.
Facilities have been asked to keep ready drugs, medical equipment, quarantine areas and adopt personal protection measures.
The new H7N9 virus is more virulent than H5N1 and healthy people can easily bring virus with them on entering the country.
Precautionary measures are already in place at Tan Son Nhat Airport in HCMC and Noi Bai International Airport in Hanoi, where two temperature scanners are operating.
In related news, Nguyen Xuan Binh, director of the Animal Health Center on April 10 said test results of dead salanganes in Phan Rang Town in the central province of Ninh Thuan showed positive for A/H5N1 virus. This is the first time the birds have been detected positive for the dangerous virus. Yet, tests on live birds showed negative for the virus. Therefore, the source of transmission has so far not been verified.
According to an epidemiology survey in the first quarter of 2013, H5N1 virus is present in the environment in 11 cities and provinces with 33 percent and 25 percent in the southern province of Ba Ria-Vung Tau and the central province of Binh Thuan, respectively.
However, no case of bird flu has been recorded in the history of salanganes breeding in countries like Indonesia, Thailand and Malaysia.
On the same day, Tran Dac Phu, deputy chief of the Department of Preventive Medicine, worked with a sub-division in the Mekong delta province of Dong Thap on preventive measures for bird flu. Phu also arrived in Tan Trung Hoi Commune where a four-year-old boy had died from Avian Flu H5N1 strain. 
The local health watchdog was asked to raise people's awareness and keep supervision on poultry flocks as well as people who were in contact with the above dead child.
Test results showed that out of 70 samples of water fowl in Dong Thap Province, 24 were positive for H5N1 virus.