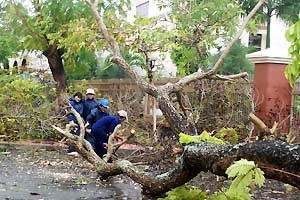 A group of workers in typhoon-hit province clear the street.
The Health Ministry today issued a document to ask local health organizations in typhoon-hit provinces to provide victims with free medical treatments and food as well as assistance in the reconstruction of damaged infrastructure related to basic health priorities after the storm Durian.
In particularly, the ministry requested they promptly take preventive measures for the control of high-risk diseases such as respiratory contamination, influenza, petechial fever and diarrhea.
The ministry also asked the National Institute of Malaria and Ho Chi Minh City to aid in the distribution of mosquito nets and medical supplies to avert an outbreak of malaria and petechial fever.
Previously, the ministry has provided typhoon-hit localities with medicine and equipment to repair damage and provide medical treatment to typhoon victims.
About VND10 million has been given to each province in the affected areas to support the families of medical staff who were victims of the devastating typhoon.