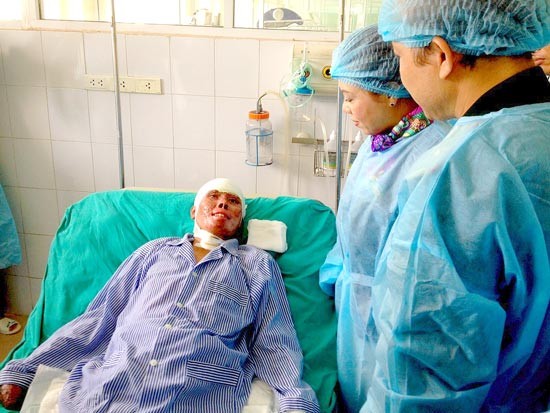 Health Minister Nguyen Thi Kim Tien visits Lieutenant Dinh Van Duong in the Institute of Burn (Photo: SGGP)
Health Minister Nguyen Thi Kim Tien November 7 visited Lieutenant Dinh Van Duong at the National Burn Institute who is the only soldier to live through the plane crash in last July.

The minister also gave certificates of merit to teams of physicians in the institute who have made their concerted efforts to save the Lieutenant during four months.
Major general Nguyen Gia Tien, director of the institute, said that in four months, leading medical experts of the institute, the Army Institute 103, the Central Army 108 Hospital, Bach Mai Hospitals, Viet-Duc Hospital and the National Institute of Haematology and Blood Transfusion have worked together to save the life of Lieutenant Dinh Van Duong.
Their efforts were rewarded as the Lieutenant recovered. It is a really remarkable feat which the teams of medical workers have made as 60 percent of Lieutenant Dinh Van Duong's  total body was burned and multi injuries.
Moreover, during treatment he has experienced organ and breathing failures many times;  he even vomited up blood sometimes.


Twenty soldiers were killed in a military helicopter crash due to "a technical problem" in the Hoa Lac area during a parachuting training exercise in Thach That District, on the outskirts of the capital city in early July.

The pilot managed to take it away from residential areas to avoid causing civilian casualties

There were 21 people aboard the Mi 171 helicopter of the Vietnamese air force, including a flight crew of three members, two parachuting trainers, and 16 parachuting trainees.