The Health Minister has announced a plan to issue policies to encourage medical workers in disadvantaged rural and mountainous areas in the Ministry of Health's 2011 plan, a response to Deputy Prime Minister Nguyen Thien Nhan's call for comprehensive reforms.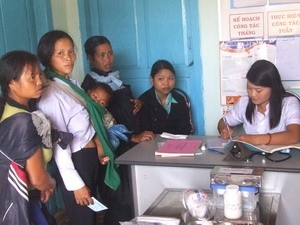 Residents in commune Dăk Pe, in district Kon Ray in the highlands province of Kon Tum are waiting for their turns to meet doctors. Medical workers in such distant region will enjoy special policies (Photo: VietnamPlus)
At a meeting in Hanoi on Feb. 21, Minister Nguyen Quoc Trieu said in celebration of Vietnam Physicians' Day (February 27) that the medical sector will upgrade the national network for monitoring food quality, hygiene and safety.
The ministry will also intensify investment in scientific research and technological application while developing the domestic pharmaceutical industry, especially essential drug production, in order to meet public demand for medical treatment.
Other targets include expansion of international cooperation, stronger foreign aid attraction and better use of foreign aid to the medical sector, and speeding up the relevant policy-making process.
Also at the meeting, Deputy Prime Minister Nhan called on the Health Ministry to reform its management mechanism in order to ensure good supply of quality medicines and increase equality in medical checks and treatment among the population, especially the poor, and children and families subject to social welfare policy.
"The Ministry should take the initiative in forecasting epidemics, in an effort to prevent them from breaking out," Nhan said.
The Health Ministry reported that average Vietnamese lifespan was now at 73 years, while preventive medicine was strengthened, thus containing epidemic outbreaks.
Beds in public hospitals can accommodate 20.5 in every 10,000 citizens and health insurance covered over 60 percent of the national population, including over 16 percent of the poor having access to free medical insurance cards.