Deputy Head of Central Healthcare Committee Tran Huy Dung yesterday held a press conference on the health condition of Mr. Nguyen Ba Thanh, who was former chief of Da Nang Party Committee and now is Head of the Party Central Committee of Internal Affairs, and rejected a rumor saying that he was poisoned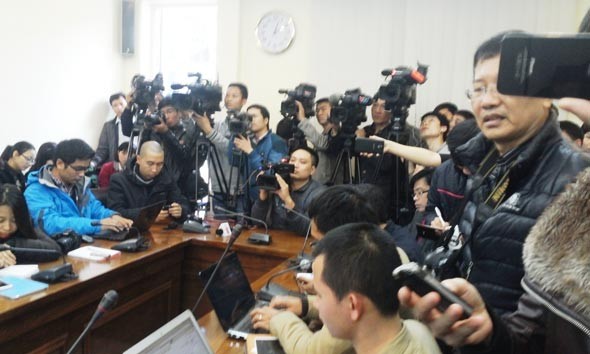 At the press conference (PHoto: SGGP)
Mr. Huy Dung also confirmed that Mr. Nguyen Ba Thanh had been diagnosed with myelodysplastic syndrome, a type of blood cancer in May 2014,
The confirmation was released as the health of Mr. Thanh has sparked widespread public concern and dominated media reports.
The board of leading scientists and medical workers concluded that Mr. Thanh had myelodysplastic syndrome, a type of cancer in which the bone marrow does not make enough healthy blood cells and there are abnormal (blast) cells in the blood and/or bone marrow, he said.
Accordingly, since August, 2014 until now, Mr. Thanh was taken to the U.S. for treatment. He had undergone bone marrow transplantations three times but it seems that his illness did not abate, said Mr. Dung.
In the next few days, the official will return to Vietnam and receive treatment at Da Nang Hospital. The scheduled flight for Mr. Thanh should have arrived in Vietnam on Tuesday but the flight has been delayed due to bad weather in the U.S.
Mr. Nguyen Ba Thanh, a high-profile official credited with modernizing Da Nang and leading anti-corruption efforts in his capacity as deputy head of the Central Anti-Corruption Steering Committee and head of the Party Central Committee for Internal Affairs.
The conference was presided by the healthcare committee officials including Dr. Nguyen Quoc Trieu, chief of the central; his deputy Tran Huy Dung; Mr. Pham Gia Khai, Viet Nam National Heart Association president cum member of the board and Mr. Nguyen The Ky, deputy head of the Central Committee for Publicity and Education.