Five children have died of hand-foot-mouth disease (HFMD) in the past two weeks in the central province of Quang Ngai and the southern province of Dong Nai. 
Nguyen Tan Phu, chief of the Children's division of the General Hospital in Quang Ngai province, announced that two toddlers had died of the disease in the past two weeks.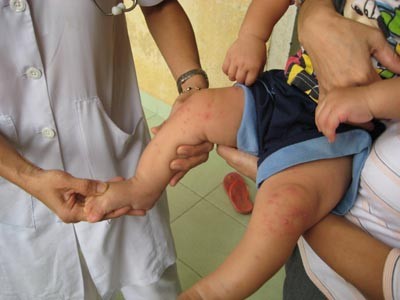 Children contracting the disease will have  these blister on hand, foot and mouth
Until now, 200 children have contracted the disease in the province. Since mid May, the hospital has received an average of 20 babies suffering from hand-foot-mouth disease each day.
Outbreak of the disease in Quang Ngai occurred in the beginning of May in children less than three years of age, caused by the recent unpredictable weather.
Since the last two weeks, the disease has spread rapidly in Quang Ngai, leading to an increasing number of children being hospitalized, resulting in a shortage of beds. All serious cases were rushed to the central hospital in Da Nang.
Meanwhile, three kids died in the Children's Hospital in the southern province of Dong Nai between May 28-30, according to Dr. Nguyen Le da Ha, hospital director. Like previous years, May is the peak season for the disease.
This year, the hospital received over 30 cases a day. On May 31 alone, 98 children were hospitalized.  The hospital reported the death of four toddlers due to HFMD.
Dr. Phu warned parents to take their children to nearby medical clinics of they discovered symptoms of the disease such as fever, sore throat, vomiting, diarrhea and blister-like eruptions in the mouth or a skin rash on the palms and soles.
Viral meningitis causes fever, headache, stiff neck or back pain. The condition is usually mild and clears without treatment. Other much more serious diseases, such as encephalitis (swelling of the brain) or a polio-like paralysis, are rare. Encephalitis can be fatal.
At present, no specific medication or vaccine is available to protect against enteroviruses that cause HFMD, hence, the best way is for parents and teachers to advocate good personal hygiene and healthy nutrition. Sick children should quit school for treatment and not contact other healthy kids to prevent transmission.
Parents, teachers and medical workers should clean dirty surfaces and soiled items, including toys, with soap and water and disinfect them as well by cleaning with a chlorine bleach solution.
Infection spreads from person to person by direct contact with the infectious virus. Infectious virus is found in nose and throat secretion, saliva, blister fluid and stool of an infected person. The virus is often spread by persons with unwashed, virus-contaminated hands and by contact with a virus-contaminated surface.