Ho Chi Minh City has reported 1,836 people infected with hand-foot-mouth disease and two deaths in the first three months of the year, said Dr. Le Minh Hung from the Department of Health.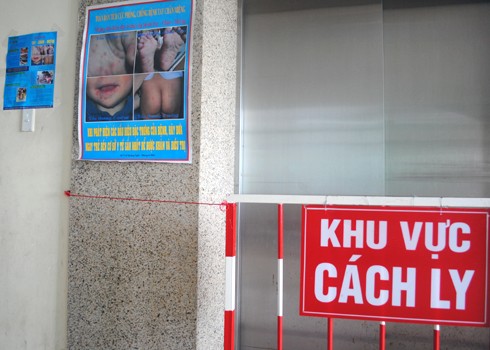 For ilustration only
Dr. Hung was speaking at a meeting on April 4, to review the prevention of the disease in schools. He said that 35 per cent of the cases were reported in the 3 to 5-year-old age group, mostly pre-schoolers.
Most of the children were living in the city's suburban districts like Binh Tan, Binh Chanh, Thu Duc and Hoc Mon, said Dr. Hung.
Nguyen Dac Tho, deputy director of the HCMC Preventive Health Centre, said it is a high risk factor that the disease is spreading among children in preschools.
The Ministry of Health assessed that in the southern hub, the Mekong delta province of An Giang had the highest ratio of 451 infected children with four deaths in the first three months of the year.
Ministry health officials revealed this figure at a meeting with the health department of An Giang Province.
Medical workers also pointed out the reasons, such as late diagnosis and delayed treatment and a slow reaction to tackle cases by local medics.
Hand-foot-mouth infection rate in Vietnam is the fourth highest in Asia and has a year-on-year rise that is far higher than other countries in the region, said Tran Thanh Duong, deputy head of the Preventive Health Department.
The disease killed 169 people in Vietnam last year, most of them children. Only 23 per cent of the 112,000 infected cases last year were detected in schools, according to the ministry.
Hand-foot-mouth disease has claimed the lives of 11 children in Vietnam this year, from more than 12,400 reported cases till March.