The continuous hike of medicine prices is a cause of much anxiety to patients as well as to hospital doctors who fear that pharmaceutical companies may stop supplies.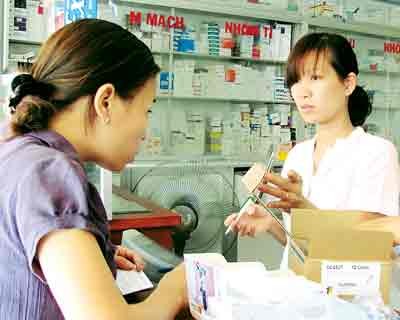 A customer is reading an announcement to hike prices of distributors on a cell phone of the pharmacy assisstant (Photo: SGGP)
Pharmacy assistants in wholesale markets in Hai Ba Trung Street in district 1, Su Van Hanh Street in district 10 and Thuan Kieu Street in district 5 in Ho Chi Minh City are all perplexed at having to justify the price hike to customers.
The price speculation has also caused a shortage of imported medications, especially those from France, Sweden and Korea.
Distributors have not provided drugs to markets as they wait for the Drug Administration of Vietnam to approve an increase in medicine prices.
However, despite no formal announcement of price rise, drug rates have soared dramatically. Various antibiotics cost 10 percent more and French made blood pressure medicines have surged from VND540, 000 to VND590, 000.
Hospitals are worried even though they have signed contracts with pharmaceutical companies. Hospital People 115 said it had urged a pharmaceutical supplier to give medicines under the contract and Nguyen Tri Phuong hospital was constantly reviewing the drug rates in order to keep the HCMC Department of Health informed in case there was a hike and distributors disagreed to provide drugs.
HCMC People's Committee convened a meeting on March 1 with pharmaceutical companies to stabilizing drug prices. The Department of Health and Saigon Pharmaceutical Company Limited (Sapharco) were ordered to provide enough drugs and maintain prices of necessary drugs. The City People's Committee planned to set up a fund to stabilize drug prices.
Dr. Pham Khanh Phong Lan, deputy head of the Department of Health said there was an enormous change in the prices of foreign medications, warning that pharmaceutical companies which were awarded tenders should not breach the contract or else they would face harsh penalties.