HA NOI (VNS)— Physical attacks on patients and doctors have led to a review in the way hospitals run their public security systems.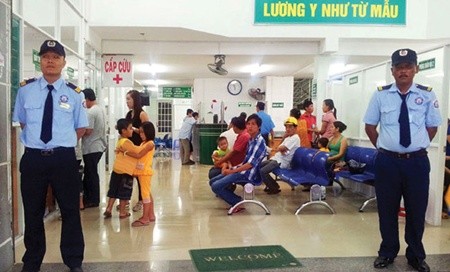 Guards keep watch at Cho Ray Hospital in HCM City. Attacks on patients and doctors have compelled hospitals to ramp up security measures. — VNS Photo baovebinhduong.com.vn
At a conference held yesterday in Ha Noi, experts examined ways to improve safety measures and improve response times.
Deputy director of the Ha Noi Department of Health Luu Thi Lien said that, until now, government agencies only got together after incidents happened.
At the beginning of January, a youth used a knife to stab the foot of his sister, a patient at Saint Paul Hospital. No police or guards responded. The hospital assigned extra guards only after the case was reported.
On June 20 last year, a group of youths rushed into Lam Dong Province's general hospital and used chairs to attack a doctor and a physician. They accused them of poorly treating a relative. The men were not arrested or punished by local authorities.
Incidents like these led the experts to push for co-operation between government bodies, such as the Ministry for Health, hospital management board, police, guards and local authorities.
Associate professor Luong Ngoc Khue, director of the health ministry's Medical Service Administration, suggested the Party Central Committee's Commission for Publicity and Education enhance dissemination work on how well medical staff were performing.
"If the public has proper appreciation of doctors' work, problems with ruffians attacking them will decline," he said.
Khue also suggested hospital boards employ professional guards at hospitals.
Lien added that local authorities should use loudspeakers and posters to inform the public about trouble makers.
Vu Van Ngoc, deputy head of Ha Noi Police's Internal Security Division, said police and the municipal Department of Health had agreed to exchange information on the subject.
They would also work with hospitals on maintaining public security and inspecting private clinics, pharmacies and managing health projects.
"To help police manage hospital security, whenever a complicated problem happens, the guards should guide the victims to safety," he said.
The country has about 1,180 hospitals and more than 199,000 sick beds, which is equivalent to 22.5 beds for every 10,000 residents.