Director of Humanity Blood Donation Center in Ho Chi Minh City Tran Thi To Nhu yesterday said that the center is continuing to collect blood from volunteers until February 5 (or 27 December as per Lunar Calendar) and then re-starting on February 13 ( or January 6 as per Lunar Calendar ).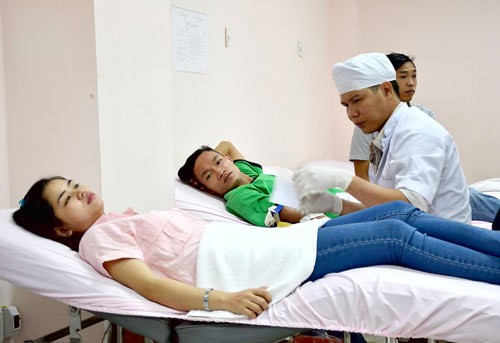 Voluntary people donate their blood in the center (Photo: SGGP)
From January to early February, the center has received over 17,000 blood units from volunteers. This amount is enough for treatment in hospitals in the city. Additionally, thousands of people are ready to donate their blood as there is urgent demand.
Dr. Tran Thi To Nhu said that voluntary blood donor mainly supply 350ml or 450 ml. the rate of blood infecting with disease is quite low with just 2 percent.

Ho Chi Minh City is still leading the country with large number of blood donors.