Almost 300 people were hospitalised yesterday with food poisoning, soon after attending a wedding party the day before in Hun village in Chien Co Commune in the northern city of Son La, reported the provincial Department of Health.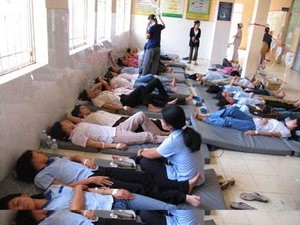 For illustration
According to an initial investigation, hundreds of wedding guests suffered from symptoms of poisoning at a wedding party on April 12 at the house of Quang Van Uon, who had invited them for the marriage of his daughter.
Soon after leaving the wedding party, most of the guests experienced headache and dizziness.
The next day they felt nausea and some even vomited blood and had convulsion fits.
They were rushed to the local medical centre and the Son La Province General Hospital.
About 100 of those affected were in critical condition while being   taken to Son La Province General Hospital, and about 200 others were being treated for mild poisoning at the local medical centre.
Provincial authorities will be conducting an investigation into the incident.