About risk of epidemic diseases after recent terrible floods in the North, Mr. Nguyen Van Binh, Ph.D., deputy head of the Preventive Health and Environment Department, has given some opinions in an exchange with Sai Gon Giai Phong.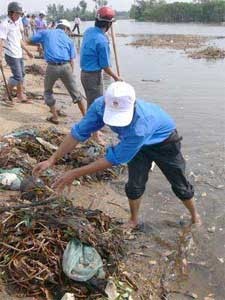 People in flood-hit areas are cleaning up the environment.
Struggling with heavy rains and floods for many days might weaken people's resistance to diseases, so if an epidemic occurs, it may spread fast and cause serious consequences, Dr. Binh said.
The northern provinces of Lao Cai, Yen Bai, Phu Tho, Ha Giang and Bac Can had reported no cases of serious disease as of Wednesday evening, Dr. Binh said.
More than 100 people wounded during floods, landslides are being treated at local health facilities. There are also many people suffering from fever, allergy, eye and skin problems, he said.
As for risk of epidemic disease, malaria is the most serious risk, particularly in areas that have long been vulnerable to the disease, warned Dr. Binh.
Petechial fever is also a concern because the density of mosquitoes often increases after floods. There is also concern regarding flu, diarrhea, cholera, typhoid and red eye since many sources of drinking water have been contaminated, he said.
To prevent disease after the floods, he recommended that people in flood-hit areas clean up the environment, remove dead animals, and treat drinking water with chloramine B or alum.