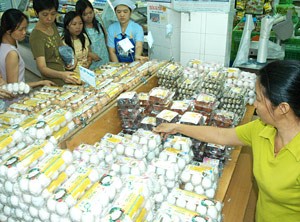 If poultry eats feed containing melamine, eggs may have it (Photo:SGGP)
Adding melamine to food in any form is prohibited, a top health official said at a meeting held by the Government Tuesday to discuss permissible limits for melamine in food.

Although the World Health Organization allows a certain amount of the chemical to be added to food, the Vietnamese Government would consider it an illegal act, Deputy Minister of Health Cao Minh Quang said.
The ministry would ban the use of the chemical to prevent enterprises, especially those in neighboring countries, from taking advantage of any such permissible limit to add it to food.
Melamine is a highly toxic chemical. 
Dr Jean-Marc Olivé, WHO representative in Vietnam, participated in the meeting.