In stead of coming early to hospitals to queuing for hours for numerical order, patients now can register to take the order through phone message.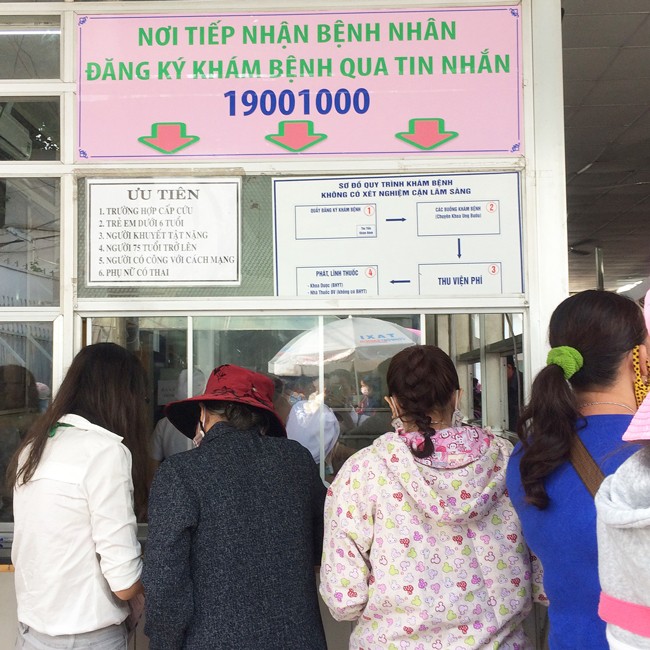 Just a few patietns are queuing in front hospital booths to wait for their numerical order. The new system is hoped to save time for patients and reduce overloading in big hospitals (Photo: SGGP)
In addition, they can check the numerical order in each doctor's room through the hospital of their choice's website or on smart phone app.

All are handled thanks to the project "Intelligently queuing to see doctor" which is the first of its kind in the country. The project helps facilitate interaction between hospital and patients in order to resolve the crowdedness in booths to issue numerical order and waiting rooms to see doctors.

With the app, patients now can take numerical order and they even can check which number is called in doctor's room through going to the website www.laysokhambenh.vn or the switchboard 1900100 will send message to remind patients of how much left to their turn so that patients can estimate the necessary time to finish formality before entering doctors' room.

The project author is Nguyen Khoa Tuan Anh and his partner in Lucky Telecom. The project triumphed 536 start-up project nationwide to win the champion of Startup Wheel 2015 competition. Tuan Anh said that he witnessed and upset crowdedness in hospitals as well as sympathized with patients in remote patients who must came to big hospitals in HCMC at 1 or 2 AM for taking numerical order.
The application of the new system will help save time of patients a lot. Moreover, the system allows patients to choose doctors' of their choice and hospital managers can grasp statistic of total patients in each wards; accordingly, the overloading in big hospitals is handled.

Deputy head of Tumor Hospital in HCMC Dr. Diep Bao Tuan, said that his hospital has implemented the new system through switch board 19001000 since October, 2016. After one month implementation, the service has aided patients to control their time and reduce waiting time.

With the hope to help hospitals and patients save time, more project will be implemented in test ward, X-ray ward.

It is hoped that once implemented in many hospitals, the system will help patients to save time and to see doctors early and hospitals to improve its treatment service.

The new system has been implemented in Tumor, Children No.2 and Go Vap hospitals in Ho Chi Minh City, the central hospital in Thua Thien-Hue Province, the General Hospital in Cam Ranh Town in the central province of Khanh Hoa. It will be deployed in Phu Nhuan Hospital in HCMC on January 20, 2017.

Currently, it is installed in Heart Institute in HCMC.