Doctors in the Mekong delta hospitals are at their wits end as to how to cope with the high number of incoming patients affected with hand-foot-mouth disease.
The disease has also developed a complicated strain, and some regions like An Giang Province are suffering pandemic conditions with the highest number of reported patients in the country.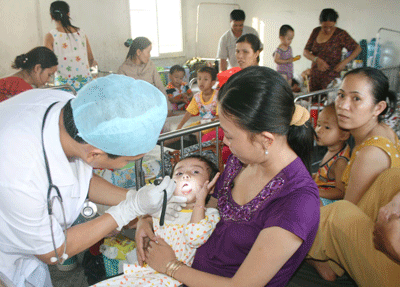 A medic at the Can Tho Children Hospital examining a child patient (Photo: SGGP)
The Pediatric Infectious Disease Division in the Children Hospital in the Mekong delta city of Can Tho is always overloaded with hundreds of young inpatients who come accompanied with relatives that sit around and lie on floors of the rooms or hospital lobby.
Nguyen Thi Kim Hoang from Ba Lang Commune in Cai Rang District, who is taking care of her grandchild, said she and her daughter-in-law take turns to sleep outside the room has 10 of the beds are already cramped with 30 children.
The Children Hospital in Can Tho is the only facility in the region; subsequently, all cases of hand-foot-mouth disease are transferred to the hospital. Till the end of March, the hospital had treated nearly 4,500 children, two of whom succumbed to the disease.
Critically speaking, relatives of infected children with low awareness can make the situation worse, as they carry the sick child to other parts of the hospital, despite doctors' warnings.
 
Consequently, only children with severe infection must be hospitalised while those with mild infection should be treated at   home. Doctors will instruct relatives of mildly sick children on ways to take care of them at home.
The Preventative Medicine Centres in Ca Mau and Tien Giang Provinces each have recorded over 500 hand-foot-mouth cases, a fourfold increase compared to the same period last year. On the other hand, Dong Thap Province reported over 1,000 cases with two deaths, a six fold increase from the same period last year.
Medical experts point out the pandemic conditions of the disease can be attributed to lax behavior of parents and the healthcare centre, most of which face shortage of facilities and skilled medical workers.
Medics in districts and communes are confused with the diagnosis and mistake the disease with other ailments; as a result, kids are rushed to central hospitals in critical conditions and often too late, said Dr. Le Hoang Son, director of Children Hospital in Can Tho City.
Lack of facilities in district hospitals also prevents medics from saving small patients. These hospitals are in need of respirators, catheters,   automatic syringe pumps and especially blood filtering machines.
The Mekong delta province of An Giang has petitioned province leaders to purchase blood filtering machines, ventilators and necessary chemicals and equipment worth VND10 billion, as the number of patients are expected to increase by June, said Dr. Vo Huy Danh, director of the Preventative Medicine Centre in An Giang Province.