Approximately 120 children and adults were taken into hospitals for treatment of chicken-pox and mumps during the past two months in Ho Chi Minh City.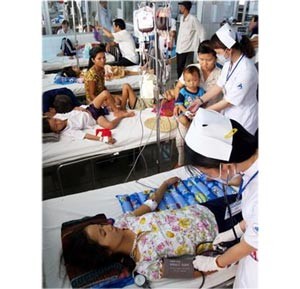 Pediatrics Hospital No.1 is overcrowded with children patients
Pediatrics Hospital No.1 is now overrun with children infected with the hand, foot and mouth disease.
The hospital is treating 41 children, including 13 with mental complications and 3 suffering from convulsions and fainting spells.
Kon Tum province's Preventive Health Center also announced that an outbreak of 190 cases of chicken-pox has occurred in 6 out of the province's 9 districts.
According to Dr. Bui Vu Huy, Deputy Head of the Infection Department at the National Pediatrics Hospital, daily admission numbers have recently run into the tens for infant patients suffering from fever and diarrhea in Ha Noi and its surrounding provinces.
Doctor Phan Van Nghiem from the HCM City Department of Health said Tuesday that the number of patients with infectious diseases caused by viral infections is mounting. Poor environmental conditions and unpredictable weather are considered to be factors in the increased number of victims.
To prevent children from contracting the diseases, parents are being urged to bathe them regularly, keep them from sharing personal items and keep infected children at home.
Dr. Huy said that it's difficult to determine whether a fever is caused by a virus or by bacteria. Out of a given group of patients suffering from high fevers, headaches, coughing or vomiting, some will recover within a week. Others however, may suffer from complications or for much longer periods.