The Japanese Government will give almost US$256,500 to three grassroots medical projects as part of an ongoing assistance program on December 17th.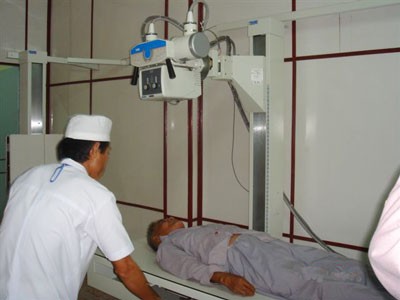 Patients in the southern province of Tien Giang benefit from a project funded by Japanese government in the previous time ( Photo : Bao Thien)
Under the Grassroots and Human Security Projects, Ikuo Mizuki, the Japanese consul in Ho Chi Minh City will donate US$86,099 to Binh Thuan Province and the rest to Ca Mau.
The first project will help Phan Ri Cua Area Clinic in Tuy Phong District, Binh Thuan, buy medical equipment, including an x-ray machine, semi-automatic biochemical analyzer and automatic hematology analyzer.
The clinic hopes to provide prompt and better medical services to 70,000 local residents and reduce transfer of cases to larger hospitals by 30 percent.
The second amount, US$82,786, will help the Dam Doi Regional General Hospital in Ca Mau buy surgical instruments for gastrointestinal video scope, without which it has had to transfer many cases every year to other clinics.
With the hospital located in a region crisscrossed by waterways and canals but with a population of 100,000, providing appropriate medical treatment here is vital since it is hard to transport patients around the province.
An amount of US$87,610 will also be donated to the Obstetrics and Gynecology Hospital in Ca Mau, the southern province' sole public facility, which delivers more than 6,000 babies every year. It is meant to buy equipment for neonatal treatment.