The President's Office held a press conference on December 21 to publicize new laws regarding organ donation.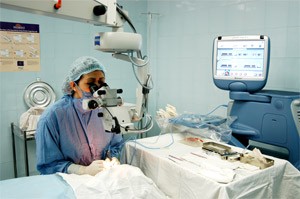 Some patients needs comea of other people for their eye operation. The new law meet their need ( Photo: U.Phuong)
Under the new laws, which will take effect on July 1, 2007, people of the age of eighteen or more will be eligible to make organ donations while still living or after their death.

They must, however, register at the National Center of Human Part Transplantation.

Under emergency conditions, hospitals may make use of organs donated by patient's relatives, however, in all other cases donors must be on the National Center's register.

The law also allows for the creation of private tissue banks; however, the government will further consider the matter to ensure that it is not contrary to the country's socio-economic development.

The shortage of human organs/tissue has become a major problem since a burgeoning population has dramatically increased the demand for liver and kidney transplants, said an official from the Health Ministry.

It is hoped the new laws will go a long way to addressing the problem. Currently, 9 clinics can carry out kidney and liver graft operations in Viet Nam.